< Back to questions
How do I display the text included in the MP3 files of my course?
The ability to display the text included in the MP3 files (ID3 Tags) depends on your device or the app being used and its ability or otherwise to display such text. This is entirely independent on the MP3 files supplied by Assimil.
For iOS, the Apple "Music" app enables text to be displayed.
For macOS, the same app or iTunes (this depends on your macOS version) also offers this function.
For iPad, during reading, for example, you can tap on the bottom right where the pocket appears in miniature. A column will then be displayed. At the bottom there is a "LYRICS" title with "Show" or "Hide" to the right. The "lyrics" will now be displayed at the bottom. All the phrases of the lesson if you listen to a file of a full lesson; or just one phrase if the file corresponds to a single phrase.
With Windows computers, Windows Media Player also enables text to be displayed. To do this, activate the "Display subtitles" option.
"Warning !"There is a problem with this reader which will not always display text, especially if your reading list contains just one file. You should add multiple files to the reading list and then switch to "Now playing" mode using the button at the bottom right. Once this mode has been activated, you should be able to see the image of the course. In this mode, press the button on the right and then "Lyrics and subtitles" followed by "Activate if available". The first file read on the list will not display any text, but only when the reader moves on to the next file.
For Android, the Pulsar Music Player app (for example) also enables text to be displayed.
When reading your file, press on the menu top right (the 3 small dots) in order to access the browser pane. By selecting "Edit tags", the text will be displayed under "Lyrics".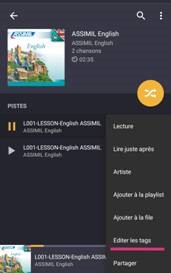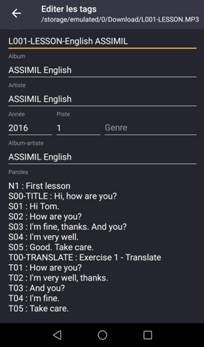 For further information, please consult the help functions of these various apps.