< Back to questions
How to display the texts included in the mp3 files of my method?
Apple's "Music" app (macOS and iOS devices) lets you view text.
On iPad, for example, when reading is in progress, you can tap on the lower right or the cover appears in miniature. A column is displayed. In the lower part you have a title "PAROLE" with on the right "Show" or "Hide". Now, below it is displayed the "lyrics". All of the lesson sentences if you are listening to a file of a full lesson; or just a sentence if the file matches a single sentence.
On Windows computers, the Windows Media Player also allows this. To do this, you must activate the "display subtitles" option.
On android devices, the "Pulsar Music Player" application can also be used to view texts.
When you read your file, press the 3 small dots at the top right to get an exploration pane. By selecting "edit tags", you will see the text displayed in "Lyrics".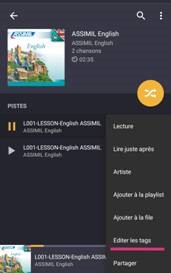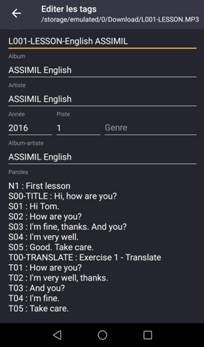 For more details, we invite you to consult the respective help for these different applications.